While planning for a family road trip in Uganda, the choice of transportation is an important thing to consider. A family safari is one of those astounding tours that give unforgettable memories to your loved ones. Without compromising on your trip experience, we recommend that you find the best family-size car that will give you a rewarding adventure in the Pearl of Africa. A family tour is always an exciting experience where you get the time and interact as you learn and discover new things with people you treasure the most. Perhaps you wonder which car type will suit your family road trip needs, which car will be comfortable for your elders and children, whether you will be exploring parks or touring popular tourist destinations in Uganda, there is no denying that you will need to choose a car that can fit all your family members plus cargo comfortability.
Uganda Car Rental Booking offers a wide variety of rental cars in Uganda perfect for family vacations and we have prepared this article to help you make the right choice when you decide to tour Uganda with the family season.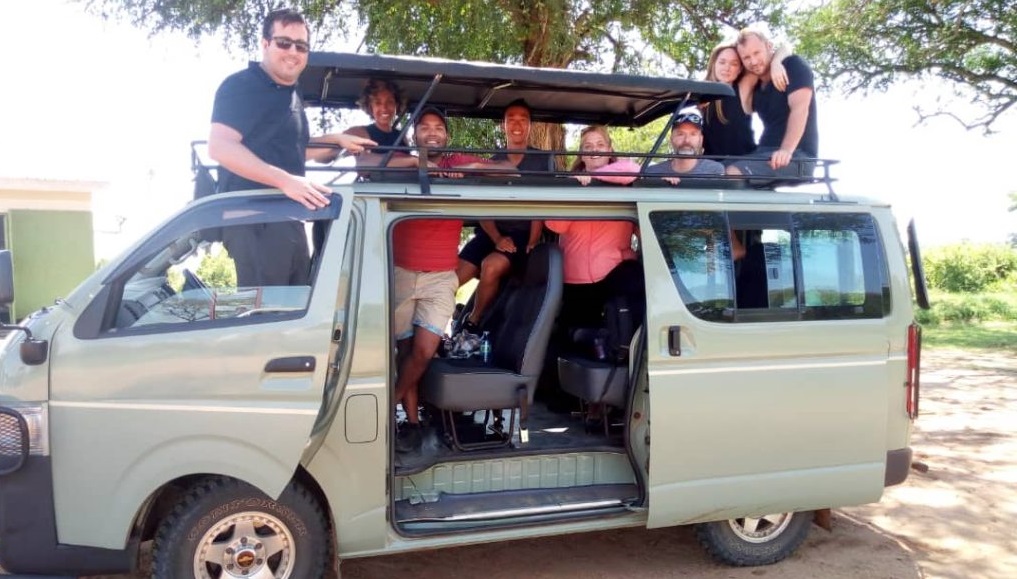 Land Cruiser Prado
Toyota land cruiser is among the outstanding family-size vehicles with impressive attributes. The car is designed to carry about 6 passengers and it features an air conditioner system, flexible seats, enough leg room space, enough cargo space. Regardless of the nature of your safari, you won't be disappointed with the Toyota land cruiser Prado.
Safari land cruiser
The safari land cruiser is found in very many categories like an extended and hardtop land cruiser. It is ranked one as one of the ideal cars customized for family safari vacations. A safari land cruiser is designed to carry 5-8 people. It is a strong 4×4 wheel safari car with the ability to manage all rough road conditions in the park and outside the park. Its built with a pop-up roof that gives an opportunity to clear game viewing in Uganda's savannah parks where you will delight in the eye-catching landscapes as well as the intriguing landscapes.
Toyota rav4
Toyota rav4 is a small size car that can accommodate 2-4 people. It's also a 4-wheel drive with four doors. Many people love to hire a Toyota Rav4 due to its interesting attributes like air conditioners, enough luggage space, and comfortable seats. The Toyota is known as one of the most affordable family-size vehicles with little fuel consumption and it comes with comprehensive insurance.
Safari van
This is the ultimate car for seeing adventure. It is designed with a pop-up roof an astounding feature that makes it the best ideal vehicle for clear wildlife viewing. A safari minivan can accommodate about 9 passengers that have enough cargo space to keep all passenger's luggage, an air conditioner system, comfortable and flexible seats among other overwhelming features that makes one comfortable.
Super custom
This is a 4-wheel ride that is built to carry about 7 passengers. It is one of the family-size cars customized for safaris in Uganda. It features a pop-up roof that is a great ideal for a rewarding game drive with fascinating savannah parks in Uganda. It is important to note that a Toyota super custom comes with a luxury interior plus the best seat belts, air conditioning systems, enough luggage space among others.
Are you planning a family road trip in Uganda? Don't hesitate to book with us your favorite family rental car in Uganda online. We provide a wide range of safari vehicles that can be perfectly ideal for your dream life safari in The Pearl of Africa. To book with us, send your inquiry to info@ugandacarrentalbooking.com or call us now at +25677 223461 and talk to our friendly reservations team.