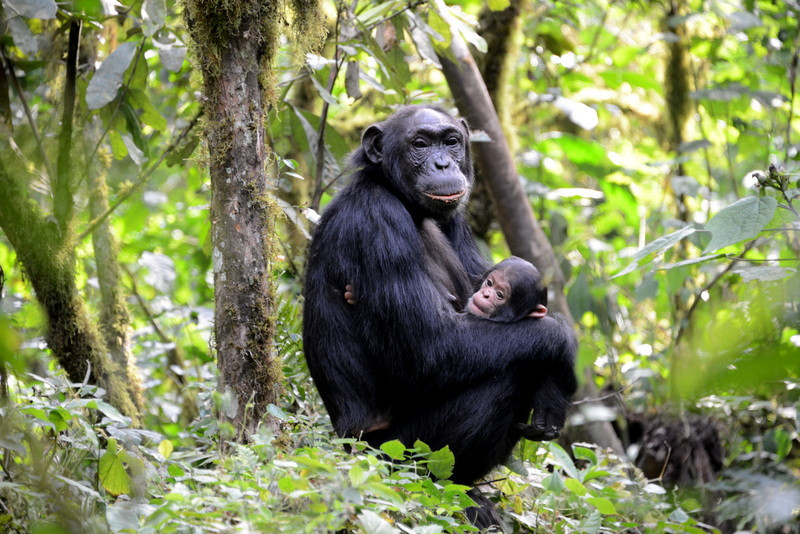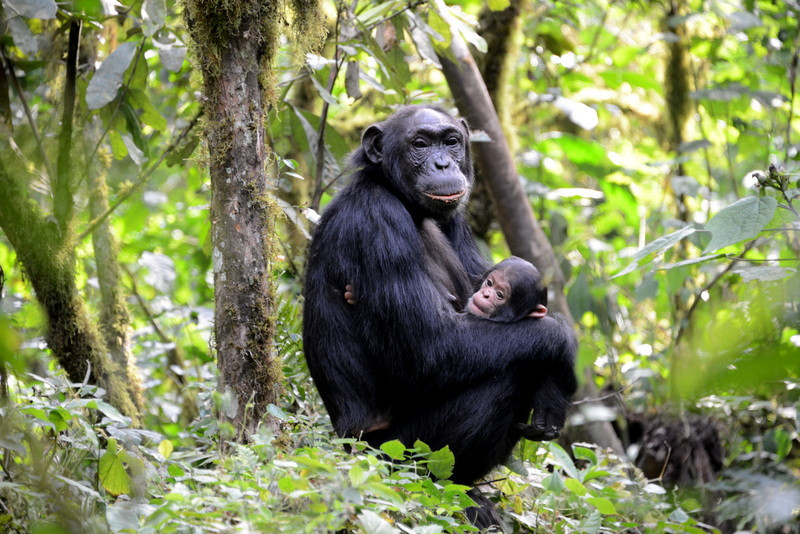 Primates safari experience offers a huge opportunity to trek and spend time with a diverse range of primates allowing you to get reasonably close and watch the incredible behavior of Mountain and western lowland gorillas, chimpanzees and Golden monkeys, enjoy a game view safari in Queen Elizabeth national park while searching for the famed tree climbing lions plus several big games. At primate safari Uganda, you will immerse yourself with the African primates. In Kibale national park, you will meet the chimpanzees as well as about 12 other primate species that may be spotted. You will also spend some time with the mountain gorillas in Bwindi, a real rewarding experience.
A full Uganda Primate package is where you will not only be seeing the beautiful gorillas and chimpanzees but also magnificent landscapes of south western Uganda that are characterized by lush highlands, grassy hills and crater lakes among others with beautiful and accommodations ranging from luxury, midrange to budget.
DAY 1: TRAVEL FROM ENTEBBE/ KAMPALA TO BWINDI IMPENETRABLE NATIONAL PARK
Your guide will pick you from the place of residence and head to the beautiful Bwindi national park. You will use the Masaka –Mbarara highway where you will have your stop over at Agip motel for lunch and then proceed ahead to the national park. Upon arriving, you will go straight to your lodge, check in, have dinner, relax and have an overnight stay.
ACCOMMODATION
Buhoma lodge(luxury), Silverback lodge(mid-range), Buhoma rest camp(budget)
DAY 2: GORILLA TRACKING BWINDI IMPENETRABLE FOREST NATIONAL PARK
You will have an earl breakfast as you will need to be at the briefing point at around 7:15am to get briefed before the tracking activity starts. In addition, you will need packed water and lunch pus jungle boots. Gorilla tracking is enriching and a rewarding experience as you walk through the thick rain forest with its green and unique vegetation, different bird species and among others. With your gorilla experience done, you will return to your lodge for an evening of relaxation, dinner and overnight stay.
DAY 3: TRANSFER FROM BWINDI TO QUEEN ELIZABETH NATIONAL PARK
You should be ready, prepared and done with your breakfast by 6:30am so that you are on the road to Queen Elizabeth national park in time for the morning game drive in Ishasha sector on the lookout for the famed tree climbing lions! After the game drive, continue to Mweya safari lodge for your lunch and head to your accommodation for dinner, relaxation and an overnight.
ACCOMODATIONS
Mweya safari lodge(luxury)
Kingfisher lodge(mid-range)
Bush lodge(budget)
DAY 4: MORNING GAME DRIVE IN QUEEN ELIZABETH AND TRANSFER TO KIBALE NATIONAL PARK
Very early in the morning, you will wake up to a cup of tea and be ready to start your early morning game drive by 6:30am. You will head to your safari lodge and have breakfast after the game drive, check out of the hotel and head to Kibale national park. Upon reaching, you will check into your safari lodge, have lunch, dinner and overnight stay. The guide will give you a look into the next day activities.
Accommodations
Primates lodge(luxury)
Chimps nest safari lodge(mid-range)
DAY 5: CHIMPANZEE HABITUATION EXPERIENCE IN KIBALE NATIONAL PARK
Wake up early in the morning, have breakfast and pack your lunch then drive to the briefing point where you will get a look into the typical day –day life of a chimpanzee plus the dos and don'ts while you are in the midst. You will officially begin your chimpanzee habituation, stop have your lunch and continue with the overwhelming adventurous habituation till 6:00pm.
This is also an amazing activity for bird watchers because Kibale is one of the national parks that is blessed with a wide range of different bird species. After your day full of adventure, you will go back to your lodge, shower, relax, have dinner and an overnight stay.
DAY 6: TRAVEL FROM KIBALE NATIONAL PARK BACK TO KAMPALA OR ENTEBBE
Wake up early morning, have breakfast and ensure that you have all your property well packed. Check out of the lodge, embark on your journey to Entebbe to be in time for your flight or head to Kampala.
To book a memorable primate safari, simply send your inquiry to info@ugandacarrentalbookings.com or you can call us on +25677922361.