Think about luxury and a vehicle, one of the names that comes to the mind of all is the Jaguar. Jaguar is a known to offer firm and buoyant image coupled with offering an impressive performance. Jaguar is known to tender a perfect combination of performance, style and Luxury which many customers feel is a great value for their money.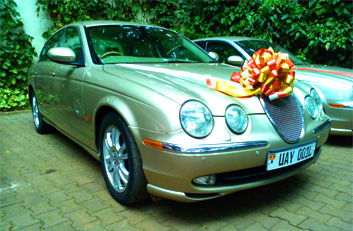 When it comes to Jaguar performance expectations, all their models have a successful track record in offering a superior drive. This combined with the exceptional features they offer, continues to ensure that the Jaguar brand ranks as one of the top-quality choices available in the luxury fleets.
To rent a Jaguar in Uganda for a wedding or any other special event, simply send us info@ugandacarrentalbooking.com or call us on +256-779223461 and speak to our reservations team.