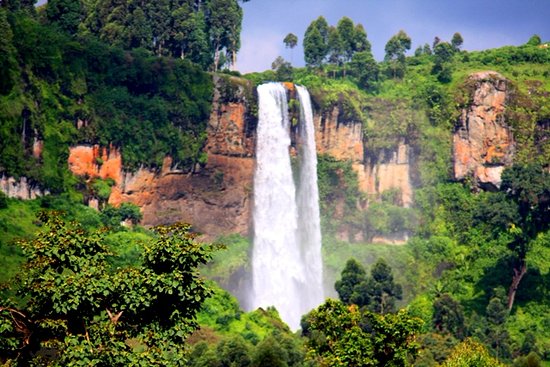 This is a series of the three water falls in Eastern Uganda. The falls are located in Kapchorwa district, North east of sironko and Mbale district on the edge of mountain Elgon national park. The three series of water fall include Sipi 1 which can be seen at a 100-meter distance at sipi falls resort, sipi 2which can be easily viewed through sipi river lodge and finally sipi 3 which is a real adventure and deal. You will get up close and personal with the loud roar of the falls and water splashing on you like steam all over the place. If you are darling enough, you will be drenched in less than a minute and the cold splashes of this water will leave you excited. A wonder comes in when you will only hear a sound of the flowing water that you cannot see.
DAY 1: TRANSFER TO MBALE
Your driver will pick you from your accommodation to Mbale town. The drive takes you through the renowned Mabira forest and Jinja with lots of optional activities. Enjoy lunch at your hotel of interest and later prepare for a guided walk and see how the locally grown Arabica coffee is processed. Check in at the hotel, relax, have dinner and have an overnight stay.
Accommodations
Mbale resort hotel(luxury)
Rafiki lodge (midrange and budget)
DAY 2: EXPLORE MBALE
Enjoy breakfast and explore the Wanale Cliff to enjoy a 360-degree view o Mbale town, sironko and its surroundings including the different waterfalls. This tour provides a breathtaking atmosphere to you especially when you enjoy the splendid views of Mbale town. Your driver will take you to your lodge, relax, have dinner, and an overnight stay as you prepare for the next adventure the following day.
DAY 3: EXPLORATION TO MOUNTAIN ELGON
You will have an early morning breakfast, later hike to the Mt Elgon forest exploration center for a briefing on the activities of the day. There are two hike option areas to choose one from. The popular forest exploration center that makes one enjoy the cool mist at chebonet falls, kapkwi cave, the talking tree and the spectacular view point of the low land areas below.
The other one is the long arm of mount Elgon that bears the Wanale trails loop with vertical cliffs of ridge and several cascading waterfalls that make a very scenic drive. These two hike areas offer an excellent opportunity to experience mount Elgon's unique plants and wildlife in a short period because in both, you will enjoy views of regenerating forests, fields of colorful flowers, extensive stands of bamboo plus a variety of birds and wild animals.
Retire to a dinner and overnight at your lodge in the sipi areas.
DAY 4: RETURN TO KAMPALA
Today, you will be driven to Kampala. Have a stop at Sezibwa falls for scenic viewing, photography and exciting nature walks to the top of the falls. Proceed to Kampala or to your preferred destination.
Experience breathtaking views whose price is worthwhile when you simply send your inquiry to info@ugandacarrentalbooking.com or you can call us on +256779223461 and talk to the reservations team.