Hire cars are a wondrous invention which you can object to take you anywhere you wish to go either for a week, month, or even a year. Whether traveling for work or gearing up for an epic summer road trip, taking basic precautions will help you stay safe in your rental car. There are a few things that you need to know before you hire a car in Uganda or event after living the lot, these car hire tips will make sure your trip is a good one and not just a basket full of tireless headaches. Check them out before you travel anywhere in your rental car.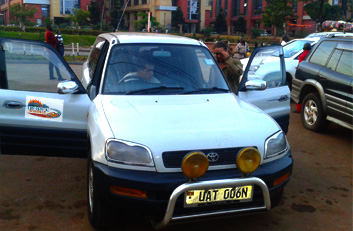 Know your auto insurance coverage for rental cars
It is somehow crazy to drive a rental car knowing that you don't even have a single bit of insurance for it, in other words it sounds naïve. Make sure as you hire a car from the rental counter you have a good insurance policy that can cover for the risks that you have insured for regarding the rental car. Having this insurance will put you at no stake in case you accidentally damage the rental car.
Need for road side assistance
This means that you should be assured of any road assistance where with any company or anyone who can help you on the road trip in case you are stack, find out about your coverage while away from home before renting a car, if anything goes wrong them you are good to go after getting some assistance all the way from home.
Carry proof of Insurance
To some rental car companies, they will not allow you to use their car without insurance proof, make sure that as you even travel away from the lot you have the insurance coverage proof. This will guard you against officers in case you have a small accident to have proof of insuring another person's car to avoid further issues. This may seem senseless but it is ideal for someone who really cares and minds about the insurance policies in need to cover his/her losses while on a trip.
Travel with a Small flash light
Imagine that it gets dark and you have got problems with the hired car and you need to check out the engine faults, you are by the roadside and you don't even have a flashlight to help you check out for the problem. This is where you realize the importance of carrying a flashlight or even a headlamp, with this I mean you are going for a picnic, or safari of a long trip, and you lack a flashlight, then that is not being prepared for anything concerned with safaris.
Get to know the car before you drive it
One should get familiar with the car hired from an agency before they even think of driving it to any safari trip away from the lot, you should know how to turn on the AC, mp3/CD/TV/DVD player while using the car. Imagine you are on a self-drive trip and you tackle something that you are not used to in driving, this will make you a reckless driver as good as nothing rather than causing accidents not prepared for. Before leaving the lot, please make sure that you are all covered with the basic tactics of the car such that when on a trip you don't black out.
Would you love to hire a car in Uganda for self drive or guided road trip , you can contact us now by sending an email to info@ugandacarrentalbooking.com or call us on +256-779223461 to talk to our reservations team.