A tourist vehicle is fully customized 4×4 car built to handle tough roads and weather while still giving the passengers a comfortable and safe road trip. Your safety and comfortability are vital and important to us and that is why we hire out well-serviced safari vehicles specifically designed to handle the rigors of a true African safari. The tourist vehicles are designed with maximum comfort on Africa's dusty and often bumpy roads. Our safari vehicles have 4×4 engines capable of handling rough terrain and steep and muddy slopes. Though most of the roads that lead to most safari destinations are a bit steep, with our vehicles, we guarantee you that the journey to your specified destination will always be worthwhile. Our tourist vehicles are characterized by comfortable seats, enough leg space, a first aid kit, and every passenger has their own window seat for proper comfort.
planning to tour Uganda this season and need the perfect 4×4 cars for hire Uganda, then the 7 vehicles mentioned below should be included in your shopping list.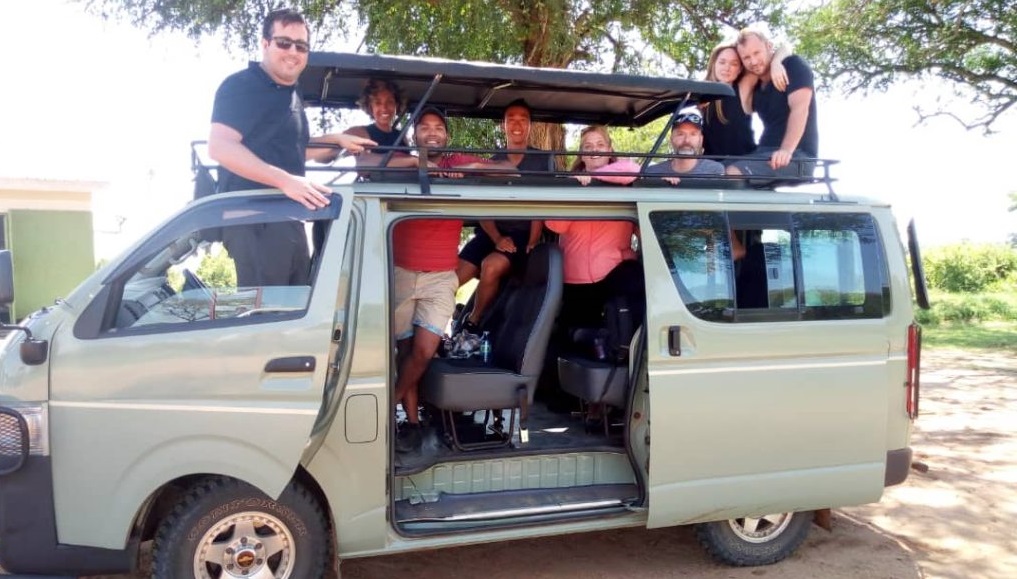 TOYOTA COASTER BUS
For the every large groups that vary from 20 to 40 the Toyota coaster bus is very ideal. The coaster bus is ideal for students, airport transfers plus city tours and also visiting national parks. Regardless of which model you end up choosing as long as it is a Toyota coaster bus, the journey will have to be a splendid one. The vehicles that are hired for tourism-related purposes have an open roof for better wildlife viewing.
TOYOTA RAV 4
This is the most popular vehicle for self-drive in Uganda when travelers are few. The Rav4 is a very good automobile known for its friendly fuel consumption and therefore excellent for long trips. It has an engine that is so powerful to drive to most locations in Uganda including the rugged terrains of national parks.
TOYOTA SUPER CUSTOM
The Toyota super custom is a very popular vehicle because it has been tailored to offer comfort for tourists going on a safari. It can take up to 5 travelers and provides all the space and leg room required particularly for long journeys. It comes with a roof top tent without compromising the special views of a sunroof giving you and your other travelers an opportunity to take some of the beautiful safari scenes at the comfort of your seat.
EXTENDED SAFARI LAND CRUISER
We shall recommend this vehicle specifically because its customized for moving in bad and rough African roads. They are very strong and they have fair fuel consumption plus having ans extended seating arrangement. The vehicle is customized with a large pop up to enable uninterrupted wildlife watching in Uganda's savannah parks. The pop up roofs on the vehicles allows a direct of wildlife and the taking of uninterrupted photos while in the game drives and the clear viewing from the windows offer good viewing even when tourists are at the comfort of the seat.
TOYOTA LAND CRUISER
A Toyota land cruiser holds a place in the heart of the many because of its reputation for liability and go anywhere capabilities. The vehicle features a battery recharging facility that saves you from the tropical heat and your camera shutting down while upcountry respectively. It has a seating capacity of 5 to seven people seated comfortably with enough leg room. The seats are dressed with clean matching cushions fitted with well-fixed seat belts. Reward yourself and your companions a worthwhile safari trip when you hire a Toyota land cruiser.
NISSAN PATROL
Good in the city buy awesome in the bush! The Nissan patrol in the peak hour is not so much a fish out of water as a beached whale. The vehicle was tried, tested and proven to be a reliable, capable and comfortable off road people mover. Looking at the exterior part of the car, you can easily tell that it's efforts will make the safari more civilian and adventurous. It is quite pleasantly and surprisingly quiet which will make the safari trip overwhelming and memorable.
TOYOTA PRADO
The Toyota prado is among the popular safari vehicles in Uganda. These 4×4 cars are appropriate for safaris for tiring trips to different destinations. This five-door SUV carries about 5 people including the driver. You can conquer any road terrain without worrying about where you will sleep.
If you are planning a Uganda safari adventure, the above points should give you reason to hire a tourist vehicle for a road trip. Send your inquiry to info@ugandacarrentalbooking.com or call us now on +256-700135510 to speak with our reservations team.