Uganda is ranked highly among Africa's top safari destinations and rightly so given it abundance in attractions that range from unique wildlife & culture to dazzling landscapes & water bodies. Whether you want to track primates, go on game drive, board a launch cruise, watch birds, learn about the heterogeneous tribes of Uganda, or adventure the Nile- Uganda has got all that more for every type of traveler including solo tourists, couples, families, small and large groups.
If you plan on traveling privately as a group ( family, friends or workmates ), its highly recommended you book a rental that not only suits your budget but also give you total comfort and security. There are a variety of 4×4 cars for hire in Uganda ideal for group road trips but we will be focusing mainly on the safari van and why you should choose it over other minivans & minibuses.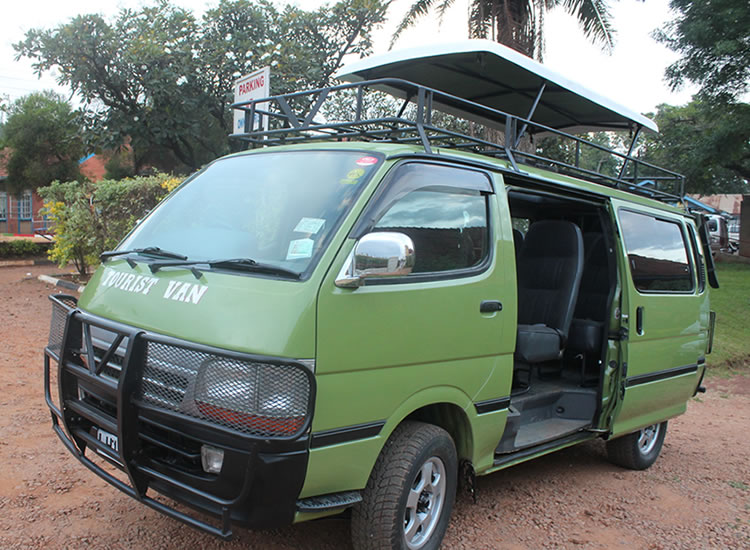 1- Comfort – One of the top reasons why you should hire a safari van in Uganda is mainly because of the adequate space it offers seating up to 9 passengers with spacious room for the cargo in the rear and sometime roof-top. The headspace and leg room offered by the safari van ensure you enjoy a comfortable road trip to any destination of your choice.
2- 4×4 Minivan – Another important reason why you should hire a safari van as your group vehicle is because of the fact that it operates on part-time & full-time four-wheel drive mechanism meaning you dont have to worry about driving through rough terrain, ascending a steep or muddy slope as the 4×4 mechanism gives the safari van engine that extra power to run all four tires simultaneously.
3- Customized features – The safari van is built for safaris and that is evident by the extra outside & inside features . The safari van features a pop-up roof that offers tourists a chance to peep out and get clear views of the wildlife and nature while inside contains a cooler box for refreshments and well ventilated windows to ensure no animal or insect can get in during a game drive.
4- Affordable – Two minivans are cheaper than one coaster bus making it the most affordable group vehicle to hire in Uganda. You can hire a safari van in Uganda for self-drive trip for as low as US$ 80 per day and the price decreases more with an increase in the number of rental days you wish to spend with the van.
So if you a re planning to safari Uganda as a group and require a strong 4×4 minivan for the road trip, we highly recommend you book the safari van for a comfortable and money-saving trip in Uganda with family and friends. You can book a safari van today by simply sending us an email to info@ugandacarrentalbooking.com or call us now on +256-700135510 to speak with our reservations personnel.
Bryan Muhoozi