A hired driver is a person entrusted with the responsibility to transport passenger(s) from one destination to another using a vehicle owned by the driver, private company or government institution. Also known as a chauffeur– a driver can be hired on a part-time or full-time basis depending on the type of road trip or client needs.
If you are planning to travel to Uganda for safari, business, research or a project and would love to have a safe and comfortable road trip, then you should consider hiring a driver over self drive road trip. Driving yourself might be a cheaper, private and more flexible option but the risks of getting lost, losing cargo or even getting stuck on the road due to mechanical problems are very high compared to when you are being guided by a professional driver.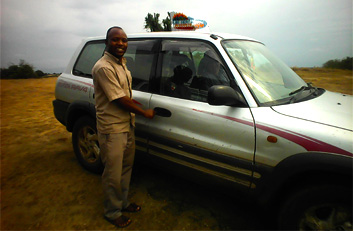 Uganda Car Rental Booking offers some of the best drivers for hire in Uganda for all types of services, having graduated from some of the best driving and mechanic schools in Kampala city- you are always guaranteed a smooth ride to any destination within Uganda. Before you decide to self drive Uganda, here are 4 reasons why you should think twice and book a driver or chauffeur for the next road trip.
1- Easy Navigation – One of the top reasons why you should hire a driver over self drive trip is the ease of navigating around Uganda. You dont have to worry about getting lost when you are with a local driver who knows the routes to multiple destinations across the country. A GPS may have routes mapped out but cant prepare you for damaged roads or blocked rods on short notice and thats where a hired driver comes to the rescue with up-to-date information about routes that will be used during the road trip.
2- Destination Knowledge – Another reason why a hired driver is very useful on any road trip is because of the adequate knowledge they possess about the destinations including history, way of life of the people, wildlife, present events and most importantly service places like gas stations, hospitals, restaurant, bank, shopping malls. Forget about using the internet and travel books to find out more about a location, your personal driver will give you all the info you need.
3- Security – When you decide to hire a car and driver in Uganda for any type of road trip, rest assured that you are in safe hands. You won't have to worry about fraudsters or highway local robbers as the driver acts like a bodyguard rooting out suspicious people and places for your safety. Fraudsters and robbers usually love to target tourists traveling without a local so be sure to travel with one to avoid such incidences.
4- No chores on a trip – Enjoy the comfort and convenience of not having to lift a single finger during your whole road trip, the hired Ugandan driver will take care of everything including replacing a flat tire, fixing a battery or engine issue, washing the car and of course doing all the driving to give you space and time to do other things like chat with family and friends or finish-up that business proposal on the way to the business meeting.
So if you planning to self drive Uganda, you should think twice and hire a Uganda driver given the above 4 reasons. To book a driver in Uganda for safari, business or leisure trip, simply get in touch with us by sending an email to info@ugandacarrentalbooking.com or call us now on +256-700135510 to speak with the reservations team.