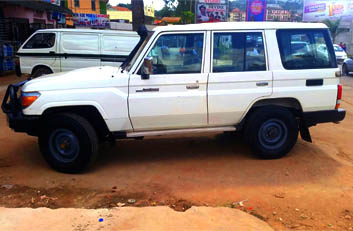 The Toyota Land Cruiser is a vehicle to seriously bear in mind in case you are looking for performance, durability and dependability.
This vehicle offers all three and extra. there are various accessories available to make the Toyota Land Cruiser fit all of your desires.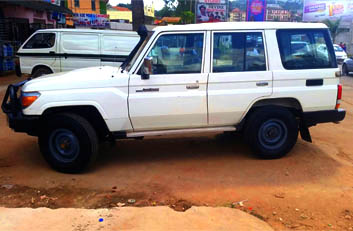 This Safari car is fit for 1 to 3 people visiting together. It's a very strong & comfortable vehicle with an air- conditioning system and an Open- roof for better views throughout your Safari.
The Toyota Land Cruiser delivers in performance and makes a solid statement. You will enjoy it from the moment you slide behind the wheel. It looks and acts like a luxury vehicle and has the power to drive in all conditions that you encounter.
To rent a land cruiser LX in Uganda for self drive or guided road trip , simply send us an email to info@ugandacarrentalbooking.com.